When you think of 'dance' what do you think of? Ballet, musical theatre, contemporary dance, tap dance, cultural dance like Indian or African dance, Strictly Come Dancing?
There are so many examples of dance … have you ever noticed that within all those examples, there is an artistic purpose, an inspiration, or a reason for the dance's conception. Sometimes it's a story, sometimes it's just a feeling or emotion. But why is that such an important part of dance?
All dance tells a story.
Dance teaches us how to communicate with our bodies, our faces and our gestures, without any spoken word. Often the result can evoke a more powerful emotional response for an onlooking audience than reading words on a page. As dancers, we learn to become more communicative, relying only on the expression of our movement to tell a story or evoke an emotion and bring a piece of choreography to life. Each choreographer has an intention behind their work. The dancer's job is to communicate that intention to a watching audience.
'Dance is not only an art form but also an opportunity. An opportunity to express. To create. To give. To tell a story. To live.'

Ashwini Kelkar
Professionally, dancers must have the technical ability and talent, but also be able to perform and translate the story of the dance. Evoking an emotional response or familiarity with the audience is a must for all performers meaning they need to be versatile enough to act out what is required of them through dance.
Having previously worked with aspiring professional dancers at Tring Park School for the Performing Arts, this was always a vital part of their training to ensure they were not only technically proficient but that they could convincingly tell a story in a professional setting.
Where can you see dance used to tell stories?
Jazz dance is used in many professional dance settings as a means of storytelling. There are some incredible dance companies out there with their roots in jazz dance, like hip-hop company, ZooNation, or contemporary/jazz company, Alvin Ailey American Dance Theatre. Jazz dance in this country is most commonly seen within musical theatre in shows such as 'Wicked', 'Frozen' and 'Newsies', to name a few, and helps to keep an audience engaged in the story of a theatre production. I grew up watching dance-based musicals on film, such as 'Chitty Chitty Bang Bang', 'Mary Poppins' and 'Annie'.
Who can forget the buzz that Chicago created when it first burst onto the stage, dramatically combining dance, theatre and story. More recently we've seen a huge rise in the popularity of dance-based theatre shows, such as Strictly Ballroom and Dirty Dancing and the popularity of Strictly Come Dancing on a Saturday evening has helped bring dance into the living rooms of many, all contributing to the awareness of the emotional effect and power of dance.
Tot Bop's story telling.
When I set about creating our Tot Bop syllabus, I wanted the storytelling and theatrical element to be there as it's a vital part of dance as a whole and of course helps to develop little imaginations, building confidence and creativity. In my head, I started at professional level and stripped it back and back until we got to the building blocks and foundations as a starting point for young children. I decided to include a 'storytime' section within each class, bringing the opportunity for children to immerse themselves in a character, setting or story to music.
As the Tot Bop syllabus developed, I knew we had to find a way of making it accessible for all our age groups, from 1 year olds all the way to our 9 year olds. The storytime for each class needed to be at the right level for the children's cognitive awareness (awareness of the world and what's in it).
You can read more about our Tot Bop syllabus here.
Storytelling in each of the Tot Bop classes.
In each of our Tot Bop age groups, the storytime section is set at a level complexity to suit the age and stage of development.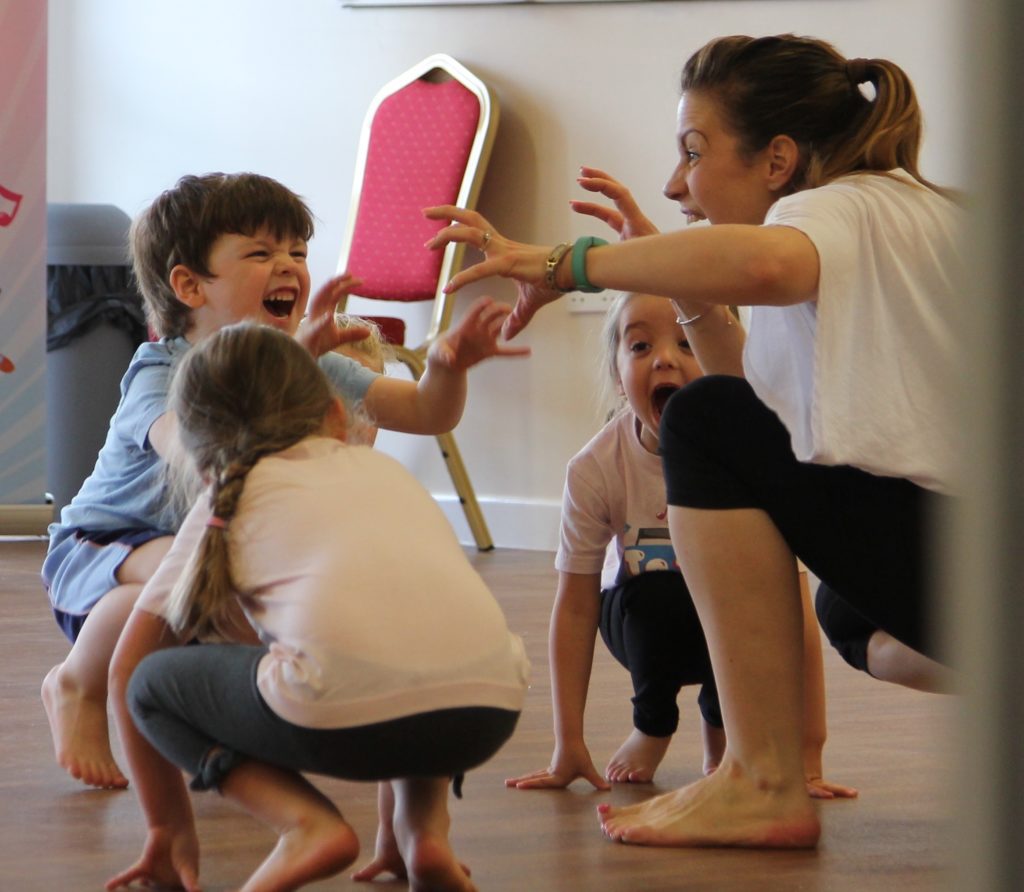 Tiny Tots (age 1-2.5)
Our Tiny Tots classes for ages 1-2.5 years, have broad and relaxed themes to their storytime sections. They often include the help of a puppet or character to help introduce the movement but the 'story' is often centred around a simple action. For example, being a bird, or a monkey looking for bananas!
Baby Boppers (age 2.5-3.5 / rising 5)
Baby Boppers classes are for 2.5-3.5 years (or up to rising 5s in the weekday morning classes). The storytime themes for this age group are centred around subjects that they will have an awareness of. From farms to creatures in a forest, the weather, transport, and don't forget about healthy eating and bugs in the garden. We focus on every-day topics and familiar scenarios that can ignite our Tot Bopper's imaginations.
Funky Monkeys (age 3.5-5; preschool & reception year)
By the time the children reach Funky Monkeys age (3.5-5 years), their imaginations have developed on further, so we start introducing more abstract themes such as pirates, knights and dragons, and superheroes.
Groovy Movers (age 5-9; school years 1-4)
Groovy Movers (age 5-9 years) are then ready to put their theme into a more choreographed routine. We take slightly longer over building up their routine over a few weeks, as the choreographic content is more complex but the story theme element is still there and they are very much now using dance to express a theme or story within a choreographed setting. The children now have a fresh challenge of not only learning a routine but using their dance to tell a story or evoke a feeling or emotion.
You can find out more about all of our Tot Bop Live classes here.
Tot Bop Online
Our Tot Bop Online classes all have storytime sections for each age group, as with our Tot Bop Live classes detailed above. However, we have been able to use technology to enhance the experience for little imaginations. All storytime sections have been filmed on a green screen, enabling an animated background to be added in post-production. Children are transported visually to each theme, reinforcing the narrative and story as we dance and explore each theme.
You can find out more about our Tot Bop Online classes here.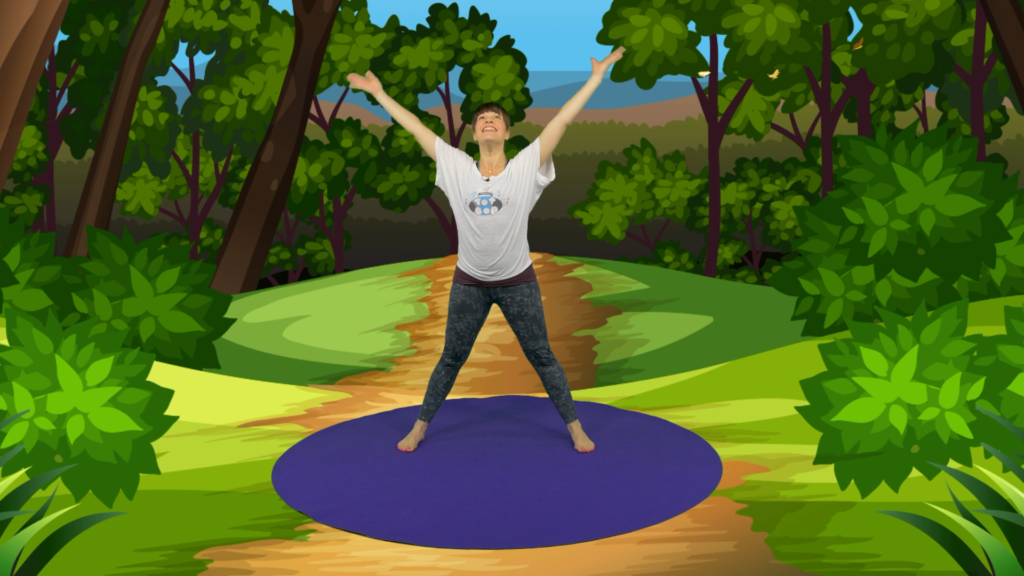 The result is that at all ages, even in our Tiny Tots (age 1-2.5 years) class, children learn that dance is expressive and creative and can be used to tell a story. We reinforce that it's not just dance for the sake of dance, even though sometimes this is essential in order to learn a specific step or move. Within our Tot Bop classes we aim to establish a connection between storytelling and dance, developing essential skills to last our little dancers well beyond their Tot Bop classes.
What next?
Do you have a question about Tot Bop classes? Contact us here.
And don't forget to follow us on social media for the latest news, updates and information. You can follow us on Facebook, Instagram and LinkedIn.