Find out more about our Tot Bop Live classes via our collection of Frequently Asked Questions.
How are the Tot Bop classes divided into age groups?
Our Tot Bop classes are divided into the following age groups; Tiny Tots (age 1-2.5), Baby Boppers (age 2.5-3.5/4; preschool), Funky Monkeys (age 3.5-5; preschool & reception year) and Groovy Movers (age 5-9; school years 1-4).
What happens in a Tot Bop class?
The classes are designed to provide children with a solid and varied introduction to dance, where they get a chance to be creative themselves as well as follow sequences of movement.
Some exercises work on developing gross and fine motor skills or teach specific steps or positions and other exercises work on the more creative and imaginative side of dancing. There is a strong focus on rhythm throughout and we aim to expose the children to a variety of musical styles and genres, enhancing musical and rhythmic awareness throughout. Classes for all age groups are well structured but the structure changes, dependant on age.
You can read about specific class structure here.
How can I find my nearest class?
Class venues include Leighton Buzzard, Woburn Sands (Milton Keynes), Wing, Aylesbury, Aston Clinton, Pitstone, Tring, Berkhamsted and Harpenden. The Tot Bop timetable details all our classes running throughout the week in all our locations for all age ranges. The timetable button is on the 'Live Classes' page on our website. If, however, you are reading this and can't find it, the link to the timetable is here.
However, please bear in mind that this is current of March '23 and as life moves on, things do change so check the website for the most current version. If in doubt, please drop us an email.
Do parents/carers stay or do we drop off?
All pre-school classes are parent/carer participatory so grown ups most definitely stay! We strongly believe that young children gain confidence and are more able to relax in the space if they are doing the activity with their grown up. It also can become a lovely bonding activity you can do together.
As children get older, they gradually become more independent and need you less, so eventually you are able to sit back and watch the magic of your little one's learning. By the time children reach our older age group class, Groovy Movers, you have the choice to either stay and watch or drop off.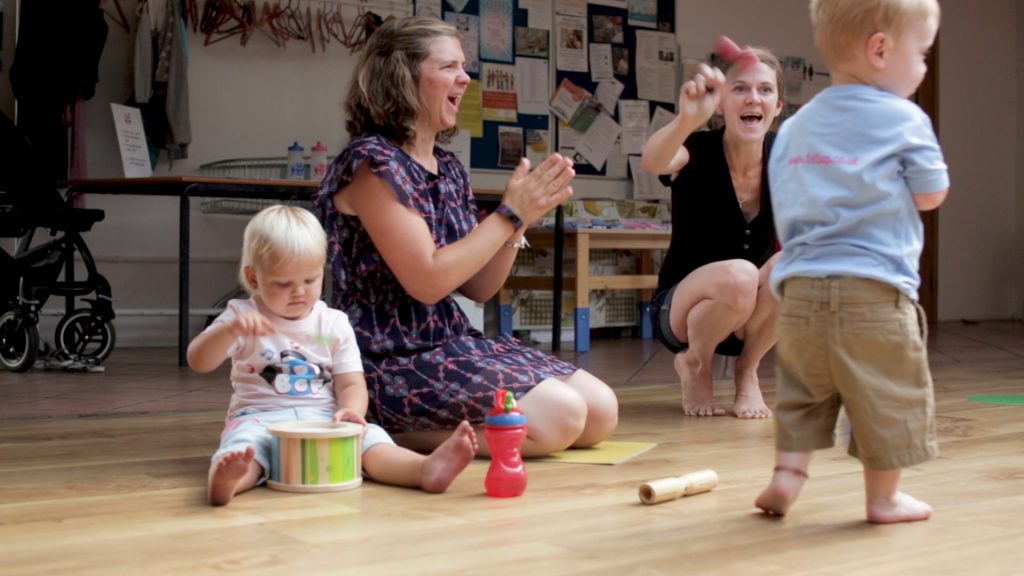 Can I do a trial first and how do I book it?
Yes absolutely! We offer both a 1 week trial or a 3 week trial, as we recognise that some children take a while to warm up to a new activity and need the continuity of a few weeks in a row to relax and get used to the class.
You can book your trial here. Select your preferred day/venue in the drop down menu under 'select a class'. Once submitted, our admin team will book you in and send you a confirmation email with the date, time and details for your trial class. If you would like a specific date, please write it in the 'notes' section. Otherwise we will book you into the next available date.
If I do a one week trial, what are my options after the trial?
After your one week trial, you can choose to book into a short block up to the next half term break or a long block up to the end of the full term. Or if you're not sure after the one week, but want to see how your child gets on, you can extend your trial for a further two weeks. Following your trial you will receive an email detailing these options.
If I do a three week trial, what are my options after the trial?
After your three week trial, you can choose to book into a short block up to the next half term break, or a long block up to the end of the full term. Following your trial you will receive an email detailing these options.
How much are classes?
1 week trial: £7.50
3 week trial: £20.00
Tiny Tots (age 1-2.5) classes: £7.50 per week
Baby Boppers, Funky Monkeys & Groovy Movers classes: £8.50 per week
(Please note that these prices are current as of March 2023 and may change. Please see the website for current pricing information.)
How do I book a block of classes and do I have to commit to a full term?
You can book in for a block of classes here. Click on your preferred day/venue and fill in the form. You still have the choice whether to book in for a short or long block, so there's an option to suit your budget and you can spread out the cost if you don't want to commit to a full term straight away.
Should I join in with my child or let them be independent?
We definitely encourage parents/carers to join in with their child initially as this really has been proven to build confidence, particularly for the younger age groups. They will usually let you know in no uncertain terms when they are ready to be more independent!
Is my child too young for structured learning?
I would go so far as to stick my neck out and say no! We are big advocates for the wider learning that can be gained from our classes, such as listening, attention and learning to follow instruction. It's not just about learning to dance. This usually happens over an extended period of time and very rarely clicks straight away with young children … so have faith that they will get it eventually!
What do I do if my child doesn't engage on the first session?
Don't worry too much and try again! All children need a chance to build their confidence in a new environment and this can often take a few weeks. This is exactly why we offer the 3 week trial option.
In addition, young children particularly need time to process what's in front of them before joining in. We see it time and time again in the Tiny Tots (age 1-2.5) class where children often appear to be just sitting and watching initially and then suddenly they'll start joining in with the class content, as if something has suddenly clicked! This is so rewarding when it happens … honestly you can't beat it! It's absolutely worth the wait!
Why do exercises repeat / develop over three weeks?
Children need to learn through an element of repetition in order to have time to re-visit and master the skill, step or action of the exercise and build confidence. As adults, we learn this way too … you don't just pick up the skill of playing tennis or speaking Italian but playing it or speaking it once.
You have to revisit the activity many times to develop any kind of knowledge and skill. In turn, children need that too. So, we have a 3 weekly cycle with our class content and re-visit, work on and develop the exercises for 3 weeks before changing them up to new challenges. This ensures children are learning through an element of repetition before adding fresh challenges to avoid hitting a boredom wall!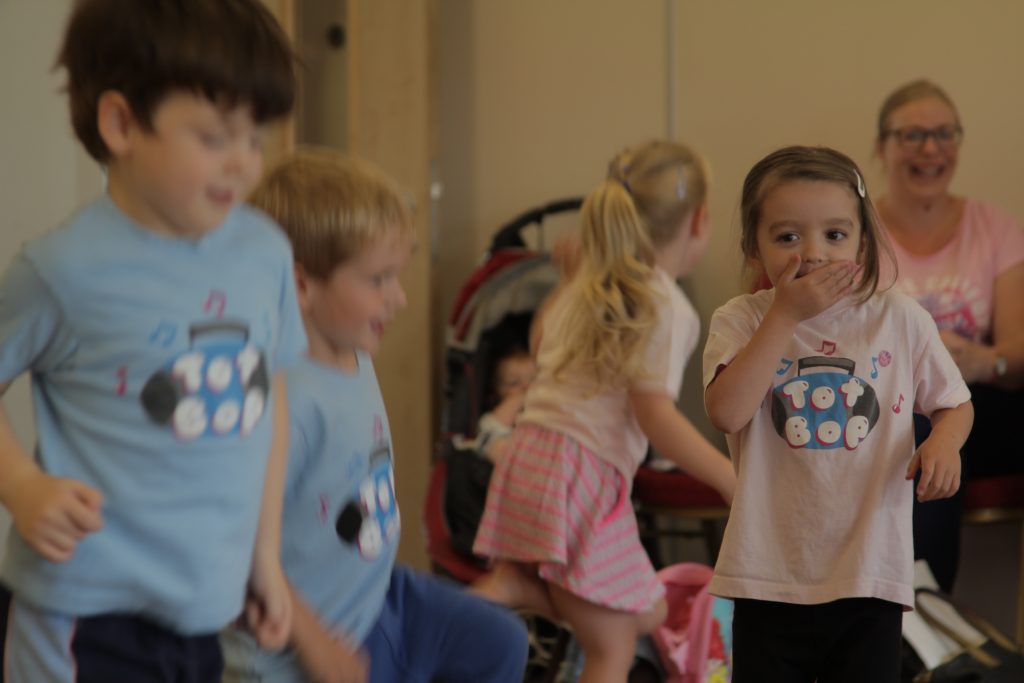 Is there a chance just to freestyle?
Yes absolutely! For Baby Boppers (from age 2.5), right up to Groovy Movers (age 5-9), children dance to the 'Tot Bop Boogie' towards the end of the class, which contains an opportunity to freestyle. This exercise has a 'party dance' feel with a simple sequence of moves to follow and a freestyle section in the middle to bust out some original moves & grooves and throw a few shapes of their own!
Can I purchase merchandise items in the class?
Yes, sticker charts, Tot Bop t-shirts, Tot Bop water bottles and coloured scarves are all available to purchase in the class. We only take card payments however, not cash. Each teacher has a card reader to take payments in the class.
What happens if I miss a class?
If you miss a class, you automatically get emailed a link to access the weekly 'Tot Bop Online' class appropriate to your child's age. You have access to that class until the Sunday evening of that week, and you can access it as many times as you like. Our online classes are pre-recorded films with animation to enhance learning points (have a look here).
In addition, you are also welcome to make up the missed class at a different venue on a different day. As you will see from our timetable, we have classes running in surrounding areas throughout the week. We are unable to credit or refund any missed live classes however.
How do you help encourage the children and keep them motivated?
All children receive a motivational sticker at the end of their class. For children aged 2.5 and above, they also receive an extra sticker for doing something particularly well in the class (eg. good jumping, galloping, spinning etc.), as we believe their achievements should be celebrated. In addition, part of our company ethos is to create a positive learning environment for children. If they are enjoying themselves, they are more likely to build confidence and therefore be in a more positive mindset to learn. This also makes for a really fun class for both kiddies and grown ups alike!