What a year 2020 has been! I'm writing this blog in the final month of what has definitely been an extraordinary year globally! COVID19 has had a huge impact all over the world and businesses, mine included, have been forced to adapt in order to survive.
When COVID19 caused the first UK lockdown in March 20, my first thought was one of horror! My precious business that I had been nurturing and building over the previous 4 years was having to close and if we didn't do something drastic and fast, the whole thing could come crumbling down. We very quickly knew that creating some sort of online class provision was the answer. It would ensure that we, not only continued to offer a sense of normality and a familiar face to our Tot Boppers, but it also provided a resource that parents and children across the UK and beyond could use to keep their children active, engaged and educated during the lockdown periods. I say we … my husband, Will Kenning is an actor and filmmaker. He was also facing a very scary period ahead professionally. All acting work immediately came to an abrupt halt and he had just a few film projects to finish the edits on. Suddenly the diary was looking terrifyingly bleak!
We put our heads together and decided to pool our skills. It was for the good of Tot Bop but also, without wanting to sound dramatic, it was the only way we could see to pay our bills and put food on the table. At that point, there was nothing on the horizon from the Government for the self-employed and definitely nothing for directors of small limited companies (grrrr … don't get me started!!) Anyway, politics aside, we started to create the beginnings of Tot Bop Online.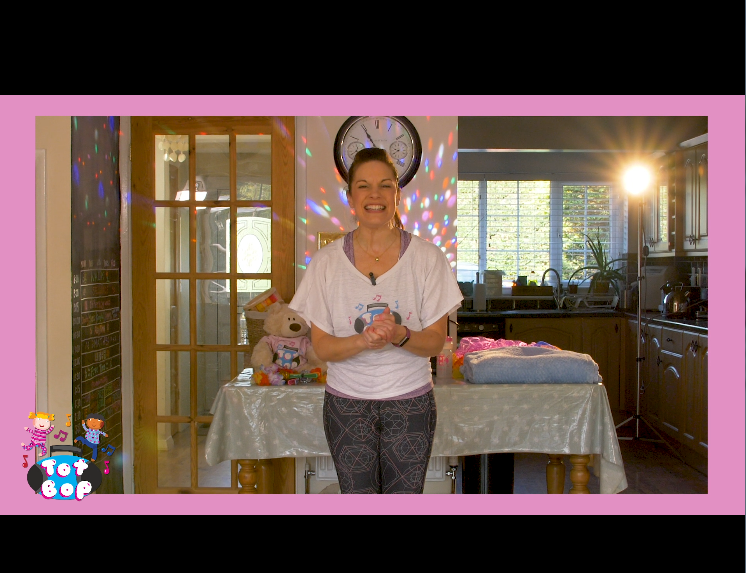 Within a week, thanks to Will's fabulous camera kit and expertise, we had filmed the first week's worth of classes … in our kitchen I hasten to add … to put out the following week. We decided straight away to do pre-recorded classes rather than 'live' classes via Zoom or a similar platform. This was largely due to the volume of classes taught but also the age of the children; we were aware from the offset that engagement would be a challenge. Then came the conundrum of how to make each class accessible to my customers. My fabulous assistant Sophie, worked her tech magic and created a brand new page on the website where each class was accessible for each customer via a password. To this day I remain so very grateful to her for getting 'the system' up and rolling so quickly. We decided that each customer would have their weekly class available to them for the full week, to access as many times as they would like (this remains a great decision … I still hear stories of little ones asking for it most days!). We wanted to make it as interactive as possible, so we threw in the 'Crazy Shape Of The Week' and 'Tot Bop Boogie Of The Week' competitions.
We began to receive photos and videos of the children … it was so lovely for the little ones to get a shout out the following week and I have to say, on the flip side, it was an absolute life line for us … to see evidence of little ones enjoying our classes lifted our souls so much in, what would otherwise be a fairly dark time. We also decided to do another little feature for the music section of each class … the 'Musical Instrument Of The Week', complete with downloadable instructions to make their own musical instrument at home. We had the bones of our online version … Tot Bop Online was born!
A few days later the schools closed … little did we know then that we were about to have the children home every day for the next 6 months!! As much as we love them dearly … ahhhhhhh!!!! We tried to embrace it though and see the positives of precious family time together. We even painted a wall in blackboard paint and the homeschooling began! Then began a crazy weekly routine of trying to run a business, homeschooling and doing pretty intense filming sessions twice a week. We kept hearing suggestions on the radio of how to fill your time in lockdown … this seemed ridiculous to us as we were busier than ever!
A month or two in, we began to realise that if the business was to survive, we needed to produce a more engaging product, that wasn't filmed in our kitchen, to help hold the attention of the young children we teach. We were also keen to create a product that would stand up outside of lockdown and could be a more permanent arm to the business. This had always been a vague idea on the 'to do list' of life, but now, lockdown was actually giving us an opportunity to make it a reality. Will and I put our heads together again and began planning and creating the vision of what we wanted the classes to look like. We decided to use animation to enhance the learning points within the exercises and a 'green screen' to create magical, imaginative worlds for the storytime sections. My amazing husband taught himself how to animate … not an easy thing, let me tell you … incredibly time consuming! We hired a white/green screen studio and the current Tot Bop Online was born!
We decided to use 3 set ups; a white screen for the warm-ups, stretch and cool down, a studio location for the main body of the classwork and a green screen for the story time routines and 'Tot Bop Boogie'. As we were an independent family unit, we were able to find two studio locations that could accommodate us, despite lockdown.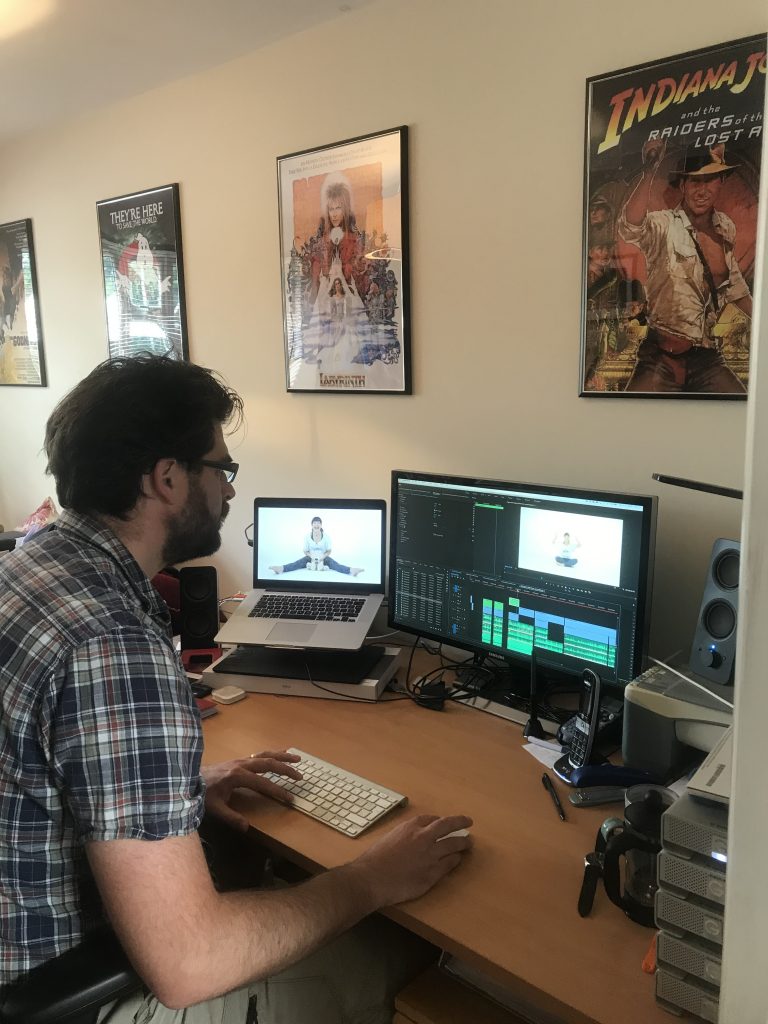 Our routine changed from filming in our kitchen to a schedule of our two different locations in order to start to put together the classes in a more professional, slick and engaging way. Organisation was the key, as we had to edit and put the classes out as we went. Will was utterly amazing … hours and hours of not just editing but creating the graphics, designing and producing the animations and green screen backgrounds and designing the sound. Good job we quite like eachother! 12 weeks later, it was complete! We had finished filming and editing the entire syllabus, across 4 different age groups; Tiny Tots (age 1-2.5), Baby Boppers (age 2.5-3.5), Funky Monkeys (age 3.5-5) and Groovy Movers (age 5-9). I am unbelievably proud of what we achieved and of the product we have created. I don't think I've ever worked harder … and we had to do it around our two children and home schooling!
It has been a joy to work together on this project and he has been a true inspiration in developing this new arm to the business. Our hope is that this side of the business continues to grow, providing online classes to parents and children and in addition, a useable resource for nurseries, pre-schools and schools.
When creating the syllabus, I've used both my professional and educational expertise to create classes that not only captivate children's imaginations, but also develop essential motor, social and cognitive skills. Our classes inspire children and ignite a passion for dance that will grow with them. I didn't want the classes just to entertain the children, but the goal has always been to provide an inclusive environment, which children thoroughly enjoy and want to return to each week, where the content is educational and inspirational. I'm confident and proud to say that we are achieving that.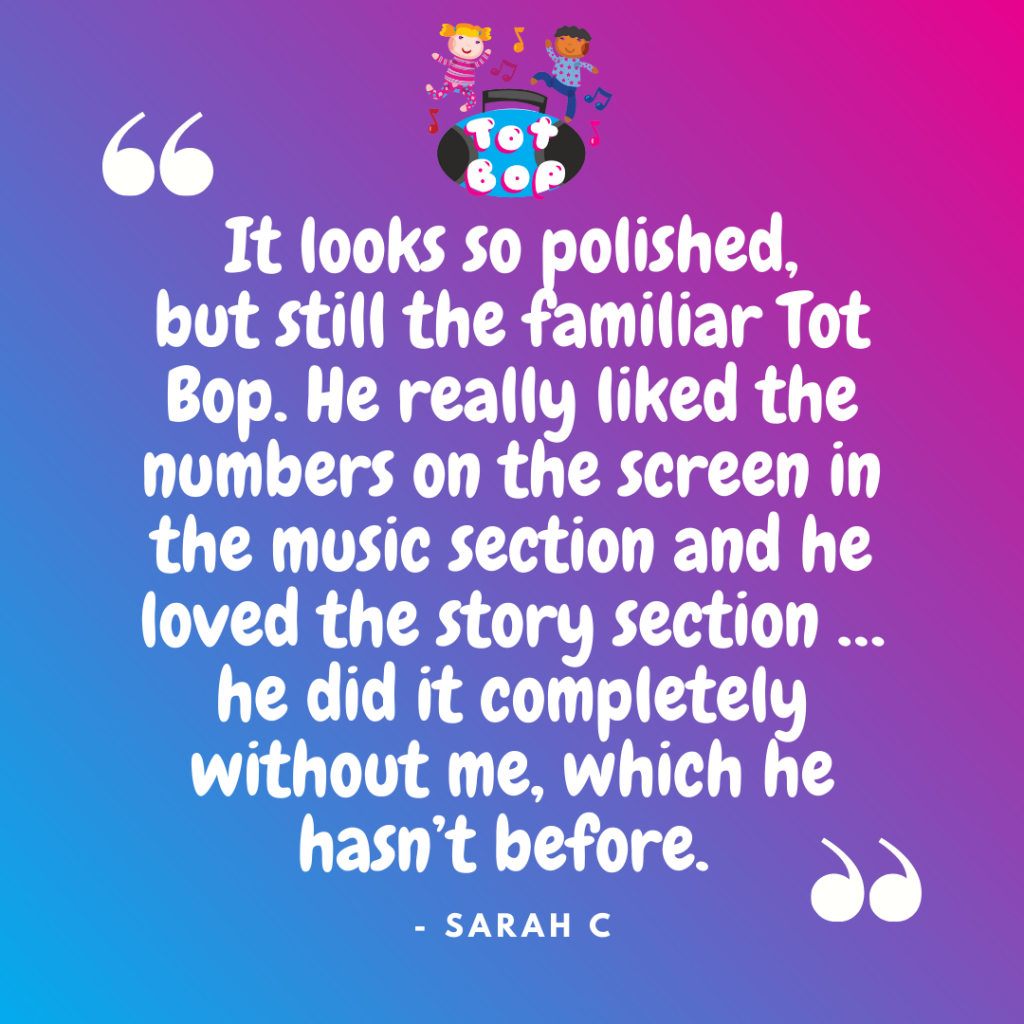 We are currently looking at ways our Tot Bop Online classes can potentially reach more families. We've had incredible feedback so far and see it's value to families, whether they are in or out of lockdown. Even when not in lockdown, it is not always possible for parents to get little ones to a physical class. Having an online resource which provides stimulation, activity, skill development and education is hugely valuable to families. Our development plan is to implement an easily accessible membership system, and invest in an effective marketing strategy to reach more families. Our next step is to adapt our current class films to be a suitable resource to be used in nurseries, pre-schools and schools.
Overall 2020 has been a huge rollercoaster and a year that I'm sure the majority of us will be glad to see the back of. But if one believes in silver linings, one good thing that has come out of it, is the opportunity to collaborate with my better half and create something special that has formed a completely new arm to the business; Tot Bop Online. We hoped we would do something like it 'one day' but this situation forced us into grabbing it by the horns, upskilling and getting it done! And for that, I'm extremely proud!
View the taster video for our Tot Bop Online classes here
Book your Tot Bop Online Class here
Rachel Kenning
Founder of Tot Bop